~Burn it down baby, burn it burn it down~
About Me
Hi there! I'm FlameFatalis. Some of you may know me from Spore as Flamestar (aka the big cat creator of Spore). I joined Spore nearly eight years ago and went all the way from having zero subscribers to having the honor of being in the top 40 of most subscribed Spore creators. True, I'm not around on Spore as much as I use to be, but I still enjoy making creations from time to time. You might even see me post some of them here on DA.
Here's my page:
www.spore.com/view/myspore/fla…
Now some stuff about me as a person: I am very musically inclined and I have played the violin for nearly 13 years. In fact, I was the concertmaster (leader) of my high school's orchestra for two years in a row. I am a Geoscience Certification Major in college now... and even though I am not majoring in music, I still take some time out of my hectic schedule to play my two violins, whom I named Blitzbee and Knock Out after my favorite Transformers (yeah, I'm a Transformers nerd too).
I am very kind and approachable... and I'm always willing to make new friends here on DeviantART, so don't be afraid to talk to me. I promise, I don't bite. Haha.

Oh, and I also have a tumblr.
FOLLOW ME



And here's my livestream channel



~And these are my precious babies~
~The blood that runs through my veins~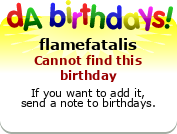 Best Buddies


Kanonu
--one of my oldest Spore buddies. Makes some pretty awesome dragons, including her main dragon, Sol.


grindARTstone
--another one of my oldest friends on Spore. Extremely talented creature-creator here on DA.


Zesseal
--Another fellow Sporian. I didn't really know her all to well on Spore, but she's become one of my closest buddies here on DA. She is also a very supportive friend... and always attends any livestreams that I hold.


cormorana
-- I've know cormorana the longest out of all my Spore friends. We were reunited here on DA several months ago. He's awesome at drawing cartoon dinosaurs and comics.... And I swear, we have the most random conversations. XD


Icoria
-- Another awesome Spore buddy and a very talented artwork. Makes outstanding dragons and wolf-like creatures.


Yorialu
-- A fellow Sporian, though we didn't really know each other too well back then. Now, Yorialu has become one of my biggest inspirations. She's a super nice and funny deviant and makes some of the most amazing cartoon dragons that I've seen here on DA.


Serenity-in-caged
-- Leo is not only a loyal friend, but an awesome line-artist. She's very kind and approachable and is always willing to make new friends here on DA.


DecepticonDanceParty
-- A fellow Blitzwing fangirl. A very kind and loyal friend. She always seems to succeed in making me laugh like a raving lunatic.


Esuerc
--one of the best Transformers artists I know. She has a great sense of humor and I'm glad to have met her.